Upon the invitation by Dr. Zhang Yuzhuo, Secretary ofthe Party Committee of Bin Hai New Area (BHNA), Tianjin, and Mr. Yang Maorong,BHNA Governor, BEC held an expert workshop, "Recommending Clean Energy Development in Bin Hai New Area", incollaboration with Asian Development Bank (ADB) at Bin Hai No. 1 Hotel on 2ndSeptember. Ten major recommendations from the attending experts on clean energydevelopment in BHNA were all accepted by the leadership team of BHNA. Dr. ZhangYuzhuo stated that BHNA would formulate an action plan for clean energytransition on the basis of those recommendations.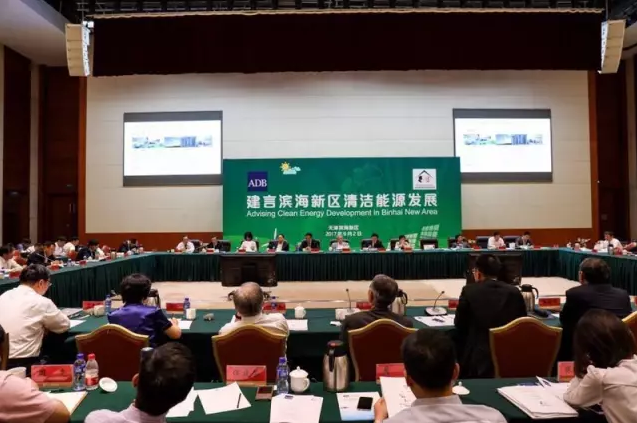 Bin Hai New Area (BHNA) in Tianjin is a State level new area, a national experimental area for comprehensive reform packages, andthe first national comprehensive reform innovation area. China (Tianjin) FreeTrade Experimental Area set up in BHNA is the first free trade area in NorthChina and serves as the gateway of opening up to the rest of the world in thenorthern part of the country.
BHNA is an important industrial base and economic power house in the Pan-Bohai Sea Region. With clean energy technologies as oneof its pillar industries, BHNA itself has a great potential for application ofclean energy technologies. Working hard to develop clean energy by leveraging upon the locational advantages, policy advantages, and economic strengths of BHNA will not only contribute to air pollutant control in the greater Beijing,Tianjin, Hebei and Pan-Bohai Sea regions and pioneer the transition to low carbon energy utilization in China and the rest of the world, but alsocarve out a new source of economic growth for BHNA.
In the morning of 2nd September, expertsorganised by BEC and ADB visited the 3MW wind turbine manufacturing workshop ofVestas, the world's largest wind turbine manufacturer, and the geothermal pump,solar, and gas CHP comprehensive energy utilization centre in Sino-SingaporeEco-City, which were located in BHNA.
In the afternoon, after hearing the report by WangJiahui, Deputy Director of Tianjin Municipal Development Reform Committee, on Energy Utilization in Tianjin and thereport by Yang Jinxing, Director of BHNA Development Reform Committee on Thoughts Regarding Clean Energy Utilizationand Development in BHNA, attending experts engaged in heated discussions onclean energy development in BHNA and proposed a lot of new ideas and thoughts.
At the workshop, three companies invited by BECpresented their clean energy technologies to explore
potential application inBHNA. These companies included Dalian Rongke Power Co., Ltd., which explainedits vanadium flow battery technology, Hangzhou Pump Energy Saving Co., Ltd.,which presented its circulating water energy conservation technology, HunanDongyou Energy Conservation Co., Ltd., which reported on its air water vaporheat pump technology, and Jiangsu Pioneer Energy Co., Ltd., which introducedits highefficiency heat storage technology. The first three were technologies thathad been assessed and disseminated at BEC's TAD Platform.
Mr. Zhou Dadi, Vice Chairman of BEC Honorary Board,headed a team of over 30 BEC experts to attend the workshop, which was chairedby Dr. Xavier Chen, BEC President, and Dr. Zhai Yongping, Head of ADB's EnergySector Operations. Also attending the workshop were governmental agency leadersled by BHNA Secretary Zhang Yuzhuo and Governor Yang Maorong and 80representatives from BHNA-based companies.