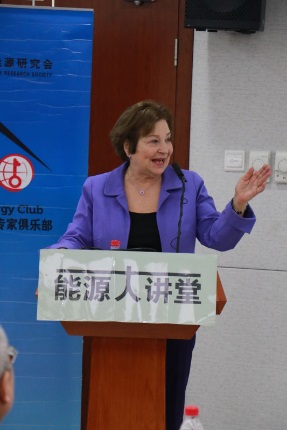 The U.S. and Russia have limited direct energy trade and investment, but their respective positions in the Caspian Sea, the Middle East and elsewhere have a significant impact on the global energy landscape. With forthcoming U.S. LNG exports, the two countries will also compete in the European and Asian markets.
What characterizes the U.S.-Russia relationship after the long period of the Cold War? Can the U.S. and Russia cooperate effectively on major global issues? How does the new U.S.-Russia relationship affect global energy development?
At the invitation of BEC, Angela Stent, Director of Centre for Eurasian, Russian and East European Studies, Professor of Government and Foreign Service at Georgetown University and author of The Limits of Partnership: US-Russian Relations in the Twenty-First Century (Princeton University Press, 2014), addressed these issues and shared her insights on U.S.-Russia relations in Beijing on Feb. 17th.
The event was jointly organized with China5e.com and China Petroleum Industry Press who published the Chinese version of Professor Stent's book. Mr. Zhou Dadi, Vice Chairman of BEC, Prof. Jiang Qingzhe, Party Secretary of China University of Petroleum, Mr. Zhang Weiguo, President of China Petroleum Industry Press, Ms. Feng Liwen, CEO of China5e.com and Dr. Feng Yujun, President of the Institute for Russian Studies of China Institutes for Contemporary International Studies joined the event and discussions together with over a hundred energy industry professionals.
Professor Stent is a member of the Council on Foreign Relations and of the senior advisory panel for NATO's Supreme Allied Commander in Europe, a Senior Fellow (non-resident) at the Brookings Institution (co-chairing its Hewett Forum on Post-Soviet Affairs) and a Trustee of the Eurasia Foundation and of Supporters of Civil Society in Russia. She has served on the World Economic Forum's Global Agenda Council for Russia and Central Asia and was an advisor on Russian affairs for former presidents Clinton and George W. Bush. She is also a non-resident researcher of many Russian institutes.