Natural gas is the most important and realistic lever for China to improve air quality and adjust energy structure. It is also the bridging fuel towards a low carbon energy future. Since the 10th Five Year Plan (2001-05), the Chinese government has been paying a great attention to natural gas development, with very ambitious targets. The country's 12th FYP (2011-15) has very high expectations for natural gas, with big targets for conventional gas, shale gas, coal-bed methane and coal-derive synthetic natural gas. As part of the country's energy strategy action plan,the National Energy Administration is in the process of elaborating plans to double the domestic gas production by 2020.
How to rapidly develop China's natural gas market? How to significantly increase domestic production of conventional and unconventional natural gas? How to improve the competitiveness of natural gas in the end-usesector? What can the government do in upstream access, pricing reform, market regulation, standards making, international co-operation and supply security?
On 21st December 2013, the Beijing Energy Club held an expert seminar on "Recommending China's Natural Gas Development". A dozen of long-career experts from industry and academia were invited to provide ideas and suggestions.
Dr. Xavier Chen, President of the Beijing Energy Club, made a presentation based on his 2002 IEA publication "Developing China's Natural Gas Market – the energy policy challenges". He reviewed China's gas market development since the IEA publication and outlined 10 areas of ongoing challenges.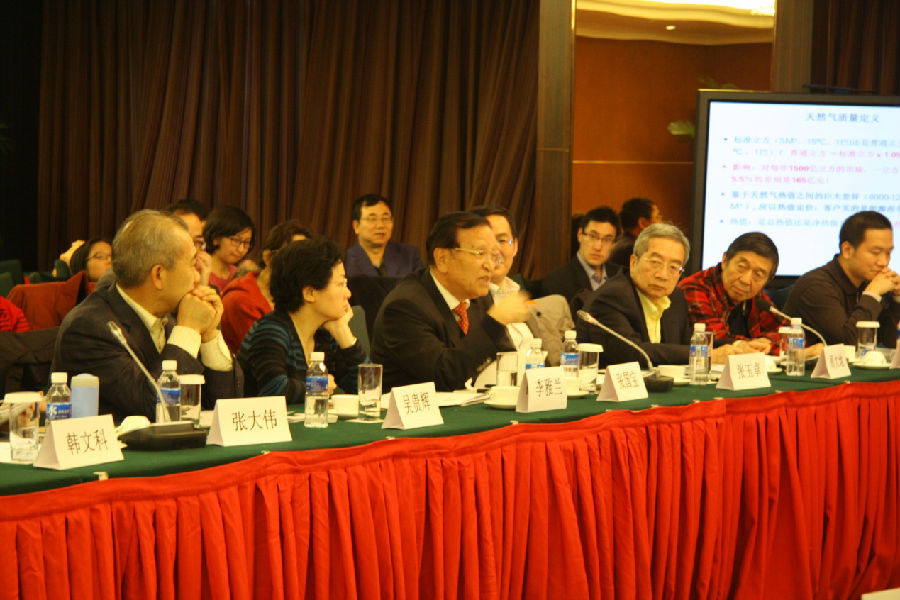 Mr. Zhang Guobao, Chairman of the Beijing Energy Club, Mr.Zhou Dadi, Vice Chairman of the Club, Ambassador Jianmin Wu, Vice-Chairman of the China Association for Innovation and Development Strategy, Mr. Xu Dingming, Counselor to the State Council and former Director-general of NDRC Energy Bureau, Dr. Zhang Yuzhuo, CEO of China Shenhua Group, Ms. Li Yalan, President of Beijing Gas Group, as well as 60 other participants from government, industry, academia and associations attended the meeting. They had a lively debate on important subjects including upstream opening, pipeline independence, pricing reform and gas-based decentralized co-generation of heat, power and cooling.