After the successful international seminar on Energy Storage Pricing: Method and Mechanism on Dec. 10th, BEC brought 20 experts from China and abroad to visit the industrial base and R&D Center of Dalian Rongke Power Co., Ltd. on Dec. 11th.
Incorporated in 2008, Dalian Rongke Power Co., Ltd. (www.rongkepower.com) is a world-leading provider of vanadium flow battery (VFB) energy storage solutions and services and one of the world's few companies with complete technical service capabilities across the value chain of VFB. Rongke Power has developed from the R&D team of Dalian Institute of Chemical Physics, Chinese Academy of Sciences, starting the research on flow battery technologies in 2000 and building a platform for technology industrialization in 2010. It has implemented more than 30 commercial application demonstration projects and owns complete proprietary IPR in the core technologies for VFB.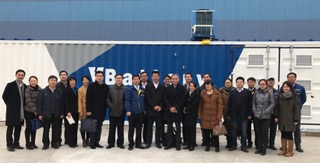 Rongke Power offers VFB major materials, cell stacks, modules, KW to MW energy storage systems (ESS) and tailor-made energy storage solutions and currently has annual capacity of 50MW, which will be increased to 300MW with the launch of its Energy Storage Equipment Industrialization Base in 2017. The 200MW/800MWh VFB Energy Storage Project, which is being implemented in Dalian, has been listed by the NEA as a National Demonstration Energy Storage Project.
Following the visits, the delegation held a workshop at the Company's head office to listen to presentations on its history and outlook and had hot discussions on VFB's technical characteristics, application scenarios, business models, and potential direct and indirect benefits. Experts from the U.S. and Japan made constructive suggestions on expanding domestic and international markets for the VFB technology.
The delegation was received by Mr. Liu Yanhui, Chairman of Rongke Power, and its other senior executives. BEC President Dr. Xavier Chen chaired the workshop, summarized 8 scenarios for application of Rongke Power's energy storage technology, and suggested the Company to carry out feasibility studies on realistic scenarios.