To welcome His Excellency Ali Al-Naimi, Minister of Petroleum and Mineral Resources, the Kingdom of Saudi Arabia, the Beijing Energy Club and Aramco Asia jointly organized a seminar entitled "Energy and Sustainability: a Saudi Perspective" in Beijing on 28th April 2015, which gathered around 100 experts from both China and Saudi Arabia.

At the seminar, Minister Naimi made a keynote speech entitled "The Power of Partnership". He was warmly welcomed by Mr. Zhang Yuqing, Deputy Administrator of China's National Energy Administration, who made the opening speech. Mr. Fu Chengyu, Chairman of Sinopec Group, and Mr. Long Guoqiang, Vice Minister of the Development Research Centre of the State Council offered commentaries after Minister Naimi's speech.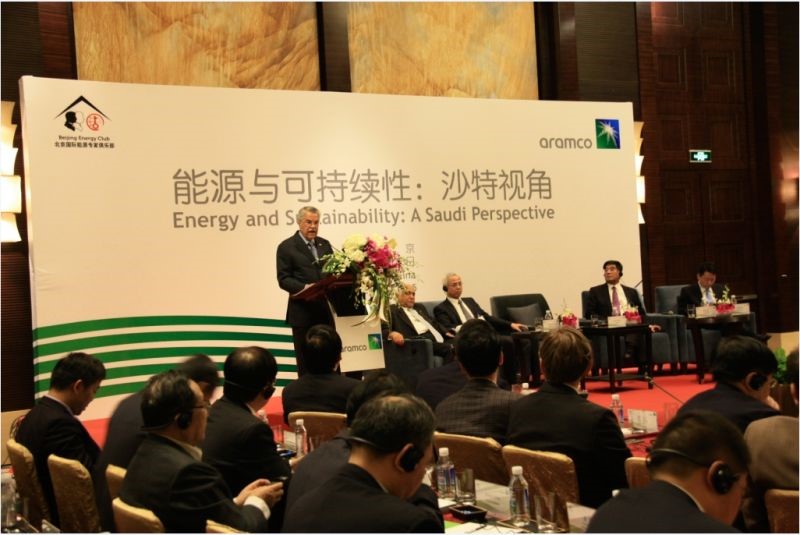 The keynote session was followed by a round table discussion, with the presence of Minister Naimi, on common energy and sustainability challengesfacing China and Saudi Arabia, potential and mechanism for future co-operationbetween the two countries.
Saudi Arabia is the world's largest oil exporting country, playing acritically important role in international oil market. It is China's largestoil supplier, with over 50 million tons of crude a year. Promoted by the topleaders of both countries, China and Saudi Arabia enjoy a very goodrelationship. Significant room exist for further co-operation not only in oil,gas, petrochemicals, energy efficiency, renewables, nuclear, engineering and infrastructure,but also in sharing experiences on energy and sustainability issues.